P-3000 y La Red-y
Thursday: Rode to Olvera to roll with Semillas, caught Teatro Campechana, headed out a lil after 1pm, lots of support, green t-shirts of hope everywhere. Great rally, took over the street, rode back to BH about 3:30 to meet ma'. Eat at overpriced Pasadena eatery, end up watching equally pretty but vancant film, good talk time with ma'. Home to relax and put aloe vera on. Got word on charter approval later that night. A-ho!
Friday: got Q, ate bad, came hm., chilled out, got out to Critical Mass, rode west, south, west again, north, east, rest at Pan Pacific Pk, down to Hollywood Blvd., and flew down Western from Franklin, loved it.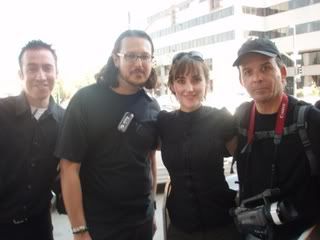 Vega, Mendoza, Orozco y Gamboa
Saturday: Gamboa's shoot is great time. Old friends and new. All have some form of degree from a university, 25 Chicana/os, dressed in black, on Lake, gathering at Borders, over to Trader Joes, load up a cart, eat on the terrance, walk to Winchell's looking like am unplanned procession, sit at tables as Gamboa directs us. DOPE.
Aterciopelados was Arteciopelados. A skilled live act. A later blog on music and me will explain my ambiguity. Great time overall.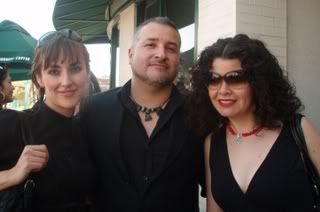 La Virgen de Guadalupe, Pachuco 3000 y Cyber-Fabi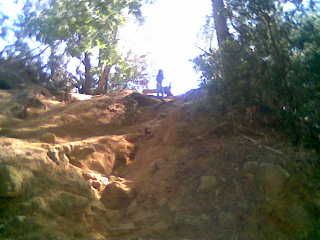 Q climbing high
Sunday: Picinic with the Noodle Family at Griffith park: delicious food, cards, soccer, catch, people watching, magic, clowns, hiking, monkey in the middle, saw a party with a full on copper pot making chicharones. Love the Noodles. No DEEP. Sleep. The Sun can burn me out.
Johnny Blaze & P-3000
Monday: CSUN, $, bank, get Johnnies Blaze & Vegas in Montebello, over to El Rodeo in Pico for the buffett, tacos de ojo like only in the Eastside, looking like a painting came to life, unreal. Munch down on the Birria! Back to BH to drop and pick some stuff, to Elysian park for a lil hike, back through Antigua to get some cafe, in Montebello Boom Boom Studios in time for 15min into the first half of the finals. I mix a mix solo, then 2x2 with J Blaze.
Tuesday: Home here writing to space & to you. Later today need to visit Bob's on Whittier and cut down the virtual stack of essays awaiting.